It is commonly said that a good craftsman has hands of gold. Never was a truer word said! More than just manual work, craftsmanship is a quality label. A vector of know-how and creativity. And it has become customary to use the term 'Homo Faber' to refer to those engaged in material production, those who manipulate tools in general, from the anthropian who preceded Homo Sapiens to the master craftsman of today. Current day masters have honed their skills to such an extent as to be able to propose new approaches and push back the traditional limits.
Homo Faber is also an exceptional showcase that celebrates the creations of the human hand. A celebration that takes place every two years in Venice, at the crossroads of art, craft and engineering. This year, Japan has been invited as the guest of honour. This biennial event is organised by the Michelangelo Foundation created in Geneva by Johann Rupert, founding president of the Richemont Group, and by Franco Cologni, president of the Fondation de la Haute Horlogerie. Working with one's hands, practising exceptional know-how, copying no one… These are the criteria that guide the participants of the Homo Faber Event. In practice, this translates into a dozen exhibitions to be discovered in the Serenissima, more than 800 unique works by artists-designers–craftsmen from 43 different countries… and some 12 Japanese "living national treasures" (exhibited in the sumptuous setting of the former refectory of the San Giorgio Maggiore monastery).
Cartier's prowess  
In the spotlight: precious stone sculptors, goldsmiths, watchmakers, enamellers, ceramists, engravers, embroiderers, and others. A virtuoso craftsmanship perfectly embodied by Jeweller and Watchmaker Cartier, which this year unveiled an exclusive piece: a delicate white opal box on which rests a flower with hand-sculpted petals in pink chalcedony (which can be detached and worn as a brooch); the edges of the box are encircled by a bracelet dotted with pink diamonds. This exceptional object, a cross between a jewel and an objet d'art, is a successful marriage of high jewellery, glyptics (hard stone sculpture) and straw marquetry.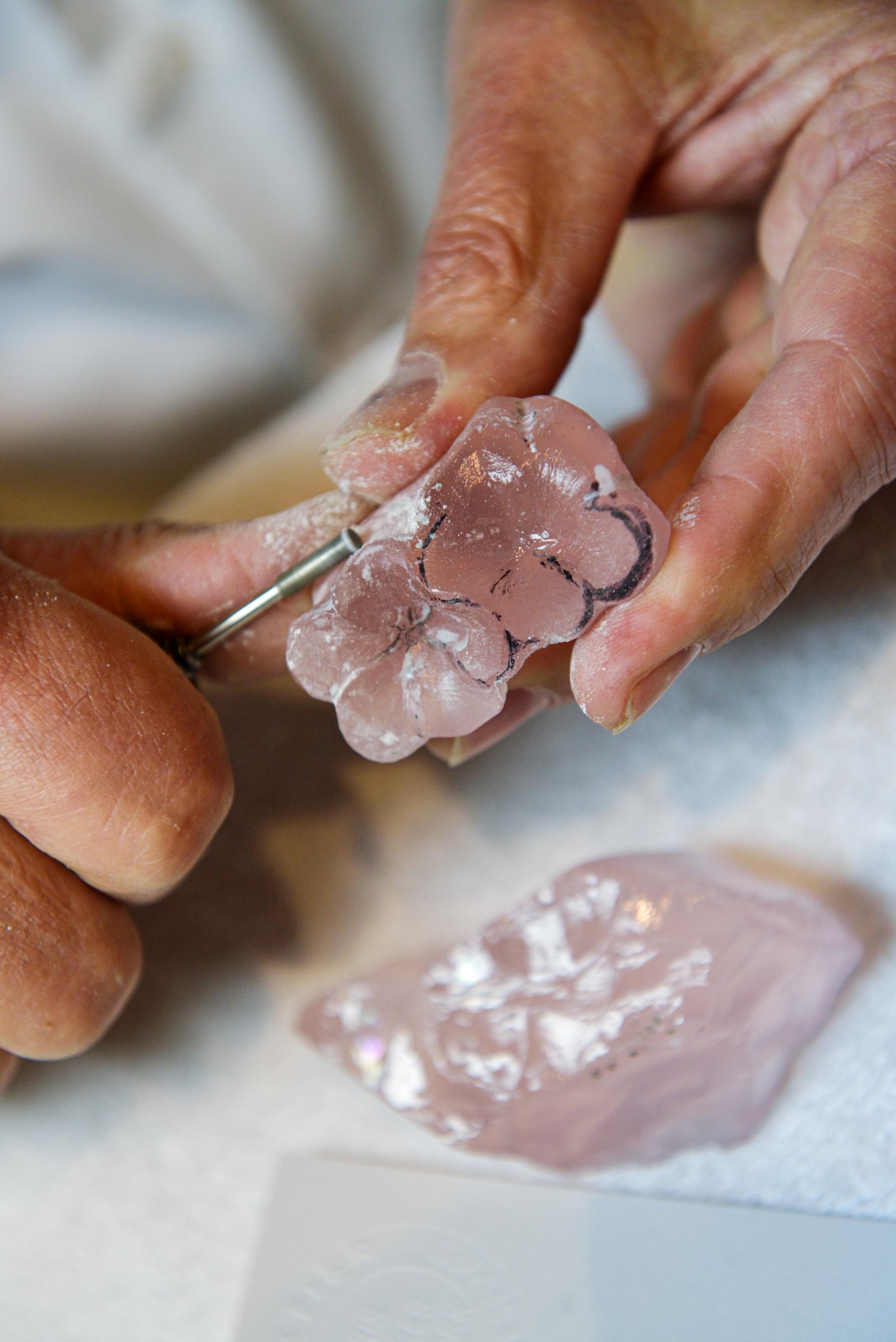 It was created under the supervision of Philippe Nicolas, who knows everything there is to know about all the mineral materials, their colours and properties. He exercises the rare profession of glyptician, i.e. the professional who engraves, sculpts and decorates fine and hard stones by means of direct cutting. After receiving the title of "Master of Art" from the French Ministry of Culture in 2008, Philippe Nicolas has taken it upon himself to pass on his valuable knowledge and, since joining Cartier in 2010, has been running a workshop where he trains apprentices.
Guest of honour: Japan   
This edition of Homo Faber celebrates the cultural dialogue between Europe and Japan by extending an invitation to the most prestigious Japanese master craftsmen and designers. A country boasting ancient craft traditions, Japan strives to safeguard its important cultural heritage, notably by designating its best craftsmen 'Living National Treasures', a title that recognises their excellence and helps protect their skills for the future. To highlight Japan's craft excellence, Homo Faber has drawn on the knowledge and talents of some of the country's leading designers and cultural experts, including Tokugo Uchida and Naoto Fukasawa. They have selected unique pieces: kimonos dyed according to secret processes, porcelain sculpture (vanity) by Katsuyo Aoki, intricately woven basketry, along with dolls sculpted in precious wood and dressed in paper…
Masterful creations
In the section that celebrates the complexity and refinement of objects created by luxury brands, Van Cleef & Arpels showcased the "Zip" necklace in yellow gold and diamonds, inspired by a zipper and created especially for the Duchess of Windsor in the 1950s. During the event, six of the company's master jewellers took turns presenting the know-how that goes into manufacturing this piece. As for Piaget, the watchmaker-jeweller has extensive experience in goldsmithing techniques. Among the textured gold decorations, the "palace decoration" (a decorative technique that involves hand engraving on precious metal) and the "Milanese mesh" bracelet (a flexible weave made from fine gold threads), two techniques that have become hallmarks of the brand, were highlighted during Homo Faber. Another technical feat on show was the "Les Cabinotiers" minute repeater watch from watchmaker Vacheron Constantin. This is an ingenious mechanism, invented way back in the 18th century to tell the time… in the dark!
Amongst the profusion of objets d'art on display, we were also able to admire a masterly floral composition by the Belgian (of Californian origin), Emily Avenson (Fleuropean), whose baroque bouquet revives the art of the "vanities" featured in Dutch painting. It was presented in a Murano glass vase created especially for Home Faber by master glassmaker Venini.