Laminate: the most popular worktop material
Laminate has made a name for itself. It is one of the most popular materials for our worktops. And with good reason: it is extremely robust and durable. It is impact-resistant, scratch-resistant, grease-resistant and heat-resistant up to 180°C. It is non-porous and waterproof thanks to its water-repellent coating and is known for its ease of maintenance. It is resistant to stains and abrasive cleaning without being damaged. This makes it excellent value for money.
And that's not all, as it has a wide range of customisation options. Laminate can imitate wood, stone, concrete and be coloured… If you want to follow the trends, opt for this terrazzo-like material.
Wood for a rustic and cosy atmosphere
Warm and timeless, wood warms our worktops. It offers a natural cachet. Beech, bamboo, teak, oak, pine, walnut… there are many varieties. The trend is to choose a raw look in a bright white kitchen for an aesthetic contrast. This will give you a Scandinavian design or a soothing Japanese décor. In Brussels, Baden Baden uses solid, eco-friendly wood in contemporary kitchens: worktops and central islands.
Although solid, wood is sensitive to heat and humidity. It requires careful maintenance. To prevent stains, it is necessary to apply a protective varnish or natural oil twice a year. For a durable worktop, choose solid hardwood.
Stainless steel for a worktop or central island worthy of a great chef
Longevity, a hygienic coating, easy and quick maintenance… It is certainly for these reasons that stainless steel is chosen in all professional kitchens. Restaurateurs appreciate its resistance to water and heat. Utensils, pots and pans can be placed directly on the worktop. Moreover, stainless steel is not affected by commercial detergents. However, it is prone to scratching and getting dirty.
In terms of design, despite its cold appearance, like marble, it can be easily integrated into all kitchen styles. Satin, smooth or brushed, it can be combined with warmer colours and materials to create a nice contrast.
To play the big chef, opt for a top-of-the-range stainless steel worktop from kitchen designer Arclinea.
Waxed concrete for a designer kitchen worktop
Concrete has been a star in our interiors for several years, but it is also making its appearance in our kitchens and, more specifically, on our worktops. The textured effect reveals a raw design with an industrial accent, totally in tune with the times.
Washed concrete is a mixture of sand, clay, water and lime. A resin is then added to strengthen it. This makes it durable, hygienic and does not retain moisture stains. Like stainless steel, it is resistant to knocks and scratches. It can only be cleaned with mild detergents.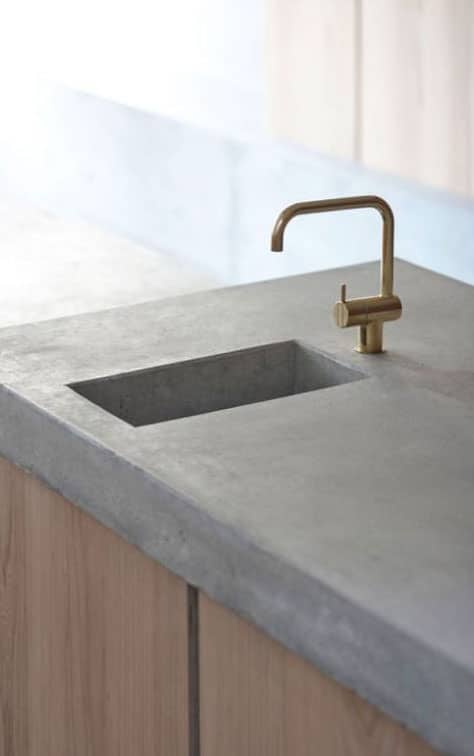 Ceramic: a trendy material for the kitchen
Ceramic is definitely the most fashionable material, and is a big hit in our kitchens. With a matt, gloss or velvet finish, it offers a wide choice of looks and designs. It can perfectly imitate marble or quartz.
It is also the strongest and most durable material for a worktop. It is resistant to high temperatures, stains and scratches. It is very easy to maintain and is not affected by corrosive products. A safe bet you can find with Belgian natural stone designer Potier Stone.
Similarly, there is Neolith® sintered stone. A noble material with the best properties for a worktop:
-heat-, UV-, scratch- and bending-resistant;
-waterproof and hygienic
-Easy to clean;
-lightweight;
-100% natural and recyclable.
This innovative, high-quality stone is available in different finishes and textures for a unique and sophisticated design.
Quartz, a popular choice for contemporary luxury kitchens
Quartz is synonymous with sophisticated, high-end interiors, and it is an attractive material that can be found with elegance on our worktops. Made from silica powder and a mixture of synthetic resins and pigments, this material offers an incalculable number of colours and shades. Plain, veined, with a fine or thick grain, with a satin, smooth, rough or polished finish, it is suitable for all types of decoration. And it is not only aesthetically pleasing.
Like ceramic and Neolith, it offers the best guarantees in terms of sturdiness. It is highly resistant to scratches and impacts. Non-porous, it does not absorb water, coffee or wine stains. Antibacterial, easy to clean with a little mild soap. However, it becomes sensitive to heat from 150°C and above. This can cause cracks.
Granite for a high-quality worktop
Particularly suitable for the kitchen, granite combines design and functionality. This rather dark magmatic stone has a great wealth of colours and shades with smooth, plain or speckled veins. It reveals a sophisticated and precious design that adds value to the home.
Although expensive, granite is undoubtedly the most durable material over time. It withstands heat to over 300°C, is resistant to cleaning agents, scratches from sharp knives and utensils, and stains. It requires no special care, but to maintain its beauty, it is advisable to waterproof the worktop once a year.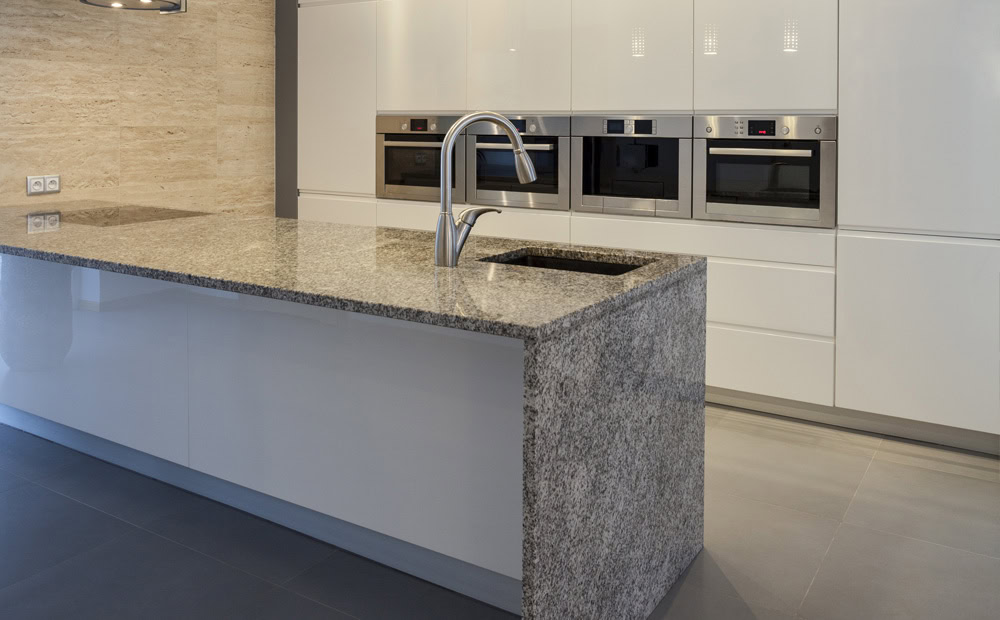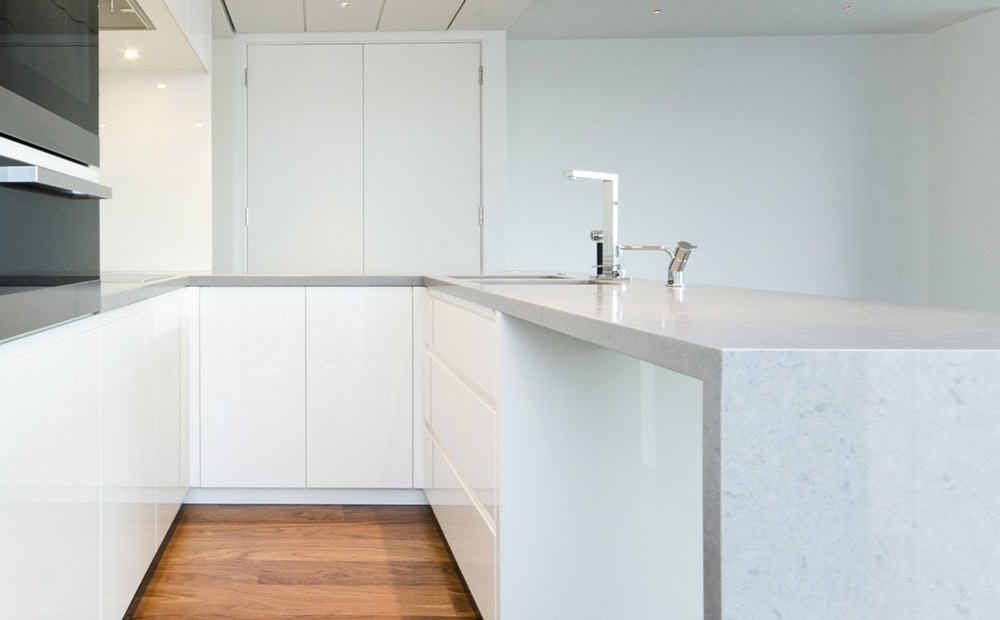 Corian® synthetic resin: a coating with an elegant, monolithic appearance
Corian®, a combination of natural minerals and acrylic resin, is a material perfectly suited for food preparation surfaces. Its main advantage: it is very hygienic. The lack of joints makes it waterproof and non-porous. It is therefore easy to clean.
As hard as stone, it is ultra-resistant. It is resistant to wear, abrasion, stains and temperatures up to 180°C. Synthetic resin has a good price/performance ratio and a lifespan of 15 to 20 years. Do use a cutting board, as scratches can be difficult to remove.
This material meets the requirements of a practical, but also aesthetic worktop. It imitates natural stone with a matt or satin finish. The lack of joints makes the surfaces visually harmonious, an attention to detail highly appreciated by designers.
Glass for a bright, designer worktop
Glass worktops fascinate with their beauty and brilliance. It lights up kitchens with an ultra-modern look. The colours of glass worktops are endless, from sober to bright. It is easy to integrate into your décor.
Practically speaking, it is a light material, very easy to install. It also has the advantage of being non-porous, so it is hygienic and not prone to stains. Regular cleaning with a damp sponge is sufficient. However, it is very fragile and sensitive to thermal shock. Heat above 120°C can break the glass and cause it to shatter. It is also prone to scratching. Beware of kitchen utensils lying around on the worktop.
The worktop sets the tone for the look of the kitchen. But it is not just decorative. Therefore, it is essential that you choose a material that is both attractive and practical.