The dual role of bathroom lighting
Bathroom lighting, long considered a purely functional element, now also fulfils an aesthetic role. Like paint and furniture, lighting plays an essential role in bathroom design. Not only do they contribute to optimal comfort, they also accentuate the architecture of the room, set the tone and create a play of light and shade. They contribute greatly to the decoration and overall atmosphere. Isn't it nice to enjoy a peaceful sanctuary illuminated by soft designer lighting, just like in a hotel?
Of course, the first priority is to optimise natural light and sunlight. However, the configuration of the room does not always allow for this. Using light colours and mirrors to catch a few rays is unfortunately not enough. For a successful skincare, make-up or shaving session, it is essential to use thoughtful, quality indoor lighting.
John Fearon and James Bassant, founders of Astro Lighting, a British high-end lighting company, will tell you otherwise. Since 1997, they have shared a passion for architectural and designer lighting. That is why their collections, with their classic contemporary designs, are about excellence and lasting quality: "With a keen eye for detail, we are obsessed with perfecting elements that others might overlook. We go the extra mile to achieve the desired result.
Accentuating the bathroom with designer light sources
To ensure minimum light and create cocooning spaces, bathrooms typical of large hotels play with different light sources. To flatter your complexion, enhance your beauty but also reveal the style of the room, you need three localised lighting solutions. These light sources focus on strategic points in the shower room.
The first is for general lighting. The aim is to illuminate the entire room. This is usually a ceiling light that covers the entire room or recessed downlights that provide a softer atmosphere. This type of lighting, while optimal, is not effective for precision work.
The second, functional, light is more directional. There are several options, such as a spotlight above the sink. However, this is not the most effective solution. Above your head, it can create unflattering shadows. Wall lights are better. They are placed on either side of the mirror, creating a cocoon of even light on both sides of the face. They are not only practical, but also add charm and character to the room. Opt for a sober design with optimal lighting performance.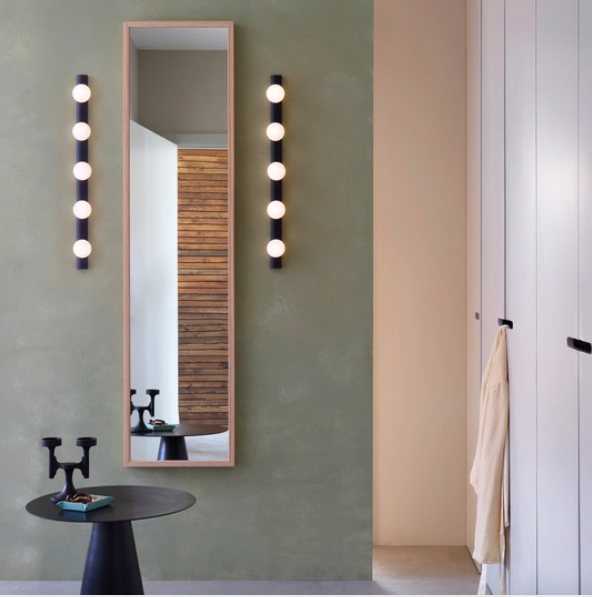 Our favourite? Astro Lighting's Tacoma model. A classic, clean look with contemporary lines. The simplicity of its shape and thoughtful architectural details make it a strong element of the bathroom. Tacoma (Single, Single Grande or Twin) consists of a metal structure and one or two glass diffusers, smooth or ribbed. The model is available in antique brass, polished chrome and matt black, the latest trend. The timeless design has stood the test of time without losing its elegance. Astro Lighting also offers the option of coordinating this wall lamp with other lampshades from the range in opal, clear or smoked glass.
For a result worthy of 5 stars, integrate a third type of lighting: ambient lighting. Use LEDs in the areas around the bath or shower to bring them to life.

Play with the intensity and warmth of the lights for a cocooning atmosphere
To make your bathroom a space conducive to relaxation, consider the intensity and warmth of your lighting. Nothing is more unpleasant than aggressive lighting as soon as you get out of bed. For gentle waking and sleeping, choose your lamps carefully and check their colour rendering index (CRI).
Yellow light is particularly warm. However, we do not recommend using this type of colour for a ceiling lamp. For a pleasant look, get as close to natural light as possible. Choose neutral white with a CRI of more than 90. Around mirrors, beware of too cold colours that tend towards blue. Choose a neutral white as well. For mood lighting, choose warm colours (CRI between 80 and 90) to achieve a muted and cocooning effect.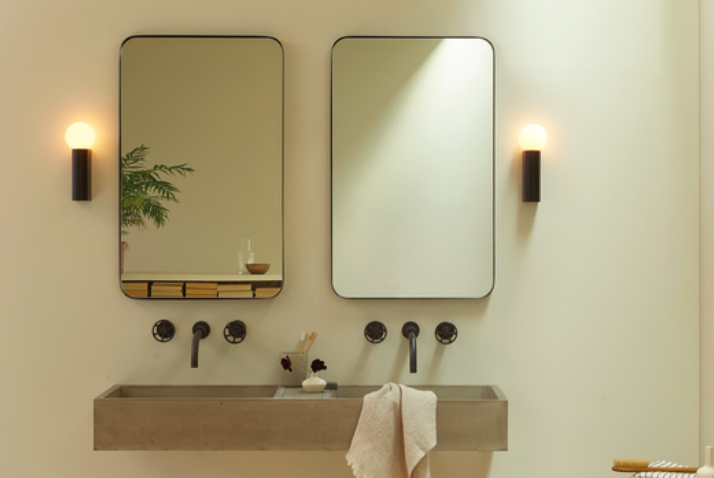 So make sure the lights do not blind you in the morning, but also that they illuminate you well in the evening. A difficult balance to strike? To find out whether your bathroom is well-lit, simply calculate the number of lux, i.e. the light intensity. On average, a bathroom needs 300 lux. Calculation of the number of lux = lumens of your various lamps / area of the room.

Durable lighting that meets safety standards
For safety reasons, it is important to comply with the applicable standards in this space where electricity and water coexist. The installation must be reliable and the luminaires must be suitable for wet areas. The various luminaires must have an appropriate degree of protection (IP), consisting of two digits. The first number indicates the level of protection against solid foreign objects, while the second number is for liquids.
For a wall light near a sink, an IP rating of 44 is required. This rating protects against splashing water. It can withstand the typical humidity in a bathroom. Astro Lighting offers the largest range of IP44 products in Europe.
This means that the lighting brand equips your bathrooms not only safely, but also durably. Astro Lighting's approach is twofold: to design high-quality and responsible products. Their environmental commitments guide every decision they make. They take a circular approach by devising new ways to extend the life of their products. They also set ambitious targets for 2030, including carbon neutrality. In short, Astro Lighting is proving to be a lighting company looking to the future of responsible design.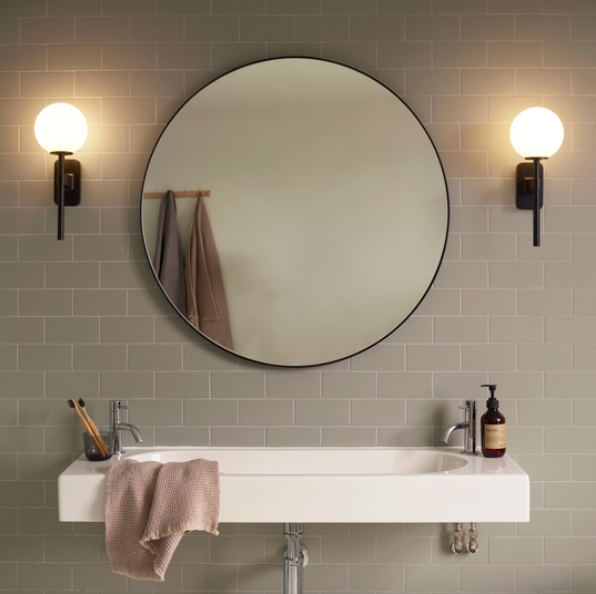 More information
+44 (0) 1279 427001
Products available from the Brulight distributor in Belgium or Luxembourg (081735052)