What triggered you to assert yourself as an architect?
I did not find myself in the architectural vocabulary that was used in Belgium at the time of my studies at Saint-Luc in Brussels, which I completed in 1983. I preferred modern architecture as it was initiated by Belgian architects in the early 20th century. So I went abroad to practice the architecture I wanted to do and I came back with a vision. Traveling and working in countries other than Belgium allowed me to find my way and define my own architectural DNA. Today, I am at a turning point in my career. In the next few days, I will open the structure to younger collaborators of the agency.
What is your mantra and how has it evolved?
"The abolition of all forms of decoration for the benefit of the correctness of proportions. I have been repeating this almost every day since I started. At the beginning of my activity and this, during about twenty years, I answered the orders with the same materials as those used at the beginning of the last century, namely mainly external cementing and internal ceilings, except for the technique of installation in order to answer the requirements of the moment. It was a good exercise: it answered the concerns of control of the budgets because this way of building was not expensive and powerful. The aesthetics were linked to an excellent insulation of the building. After these years of practice, I tried to go further in the reflection and concretization of architecture; the Atelier d'Architecture Bruno Erpicum et Partenaires revisited once again the precepts of modern architecture and removed what was not necessary for more performance, beauty and durability… An ode to the passing of time. In other words, we replaced all the materials that age, such as cement and ceilings, with materials that improve with time and acquire a patina; concrete, stone and wood, both inside and out.
What are the advantages of your constructions?
These are buildings which, in summer as in winter, can present very zen or bucolic aspects when moss or vegetation develops and rubs against them according to the shade and the light. Architecture and landscape become the same architectural expression. We work with this objective: to sublimate our direct environment through architecture, to make a building like our second skin.
How important is teamwork to you at Erpicum?
We have always favored human contact, each project is the result of numerous exchanges, we do what we call "ping pong" with the preliminary projects, they improve during these exchanges. Afterwards, the perfect understanding of the craftsmen who carry out the work on our sites is essential. They are the ones who carry out and build. Today, the more I advance, the more I say to myself that when we have finished a project, nature must take back its rights. What matters is not the building, but its environment and the life that takes place there.
What are your main sources of inspiration in modern architecture?
As already mentioned, I learned from the pioneers of Belgian Modern Architecture such as Louis Herman De Koning, Henry Van de Velde or Marcel Leborgne. At a very young age, I was also lucky enough to be able to travel with my father, a navigator at Sabena. I used to jump on planes. Sometimes I was even stuck in a city or an airport, which allowed me to be very curious and to live for a while in contact with a foreign culture. On these occasions, I visited many of Frank Lloyd Wright's buildings in the United States – his work is one of my key inspirations – as well as the famous Mies van der Rohe Pavilion in Barcelona, originally designed in 1929 and reconstructed in 1986.
What do you remember about these major works?
Constraints cannot be excuses for not evolving, they are challenges, incentives to progress. As an architect, technology is at our disposal and the architect must integrate it perfectly into the building, even going so far as to make it disappear in order to better appropriate it. Frank Lloyd Wright and Mies van der Rohe were extremely demanding architects with singular vocabularies. Designing and conceiving architecture allows us to meet private, urban or environmental needs, but meeting these requirements is just as important as defining one's own signature. Architecture must be essential, it must be beautiful at all levels, from the conception of the building to the development of the smallest detail like a faucet or a switch…
Is this one of the reasons why you are increasingly producing your own accessories and furniture for interior design?
In the beginning, we designed these products sporadically, first for specific requests at a construction site and then for ourselves. These products were designed to be handcrafted, on the edge of industry. The architecture we create is unique, as are all the details that make it up. Each of these creations is the result of a dialogue and a partnership between Erpicum, craftsmen and workers. Later, we wanted to open these products to as many people as possible, we opened ourselves to industrialists and large distributors. Being confronted with the world of industrial design and its specificities opens up interesting challenges. Sliding panels, doors on pivots (Plane by Anohid), lighting (Orbital by TAL), desks, tables (V Table) and faucets (Opus by CEA)… we do not limit ourselves. I think of the architect Victor Horta who, in the 19th century, accompanied his clients in their choice of home accessories, furnishing fabrics and even tableware… In 2004, for example, we created the first frameless switch, which we finally industrialized and distributed a decade later with the manufacturer Atelier Luxus (DOT by Erpicum).
What is your work in the field like?
We truly embrace the art of building, from the early design stages through the construction process. The workers we work with are wonderful, curious people with a thirst to do well. For the Hi-Fi house in Belgium (2010), a special concrete was developed to interact with the bark of a 100 year old oak tree in the center of the plan. I can tell you that we were like children building sandcastles when we took the samples!
Jean Luc Laloux, Hi-FI, Atelier d'architecture Bruno Erpicum & Partners
What have been the most significant projects of your architectural office so far?
Casa Azul in Ibiza, which is the second house I built on this island, I was 29 years old. This brought me into contact with Raymond Naumann, the co-founder of VILLAS. I wanted it to be blue, as a tribute to the landscape as I discovered it when I first visited the site. The integration of techniques and components of architecture was important to me afterwards, and the house Les Heures Claires, built in Brussels in 2004, illustrates this desire, as do the window frames, which are integrated into the structure and thus remain invisible. This house is still very much ahead of its time. After that, stone and concrete predominated in my interventions. From that moment on, I pushed the art of concrete further and further, in order to draw out all its substance, its hold, and to master it completely. The Casa Forana house in Corsica (2009) is the reflection of this adventure. The light vibrates on its facade like the rocks that cover the building. The dust of the nature will come to settle on the horizontal strata.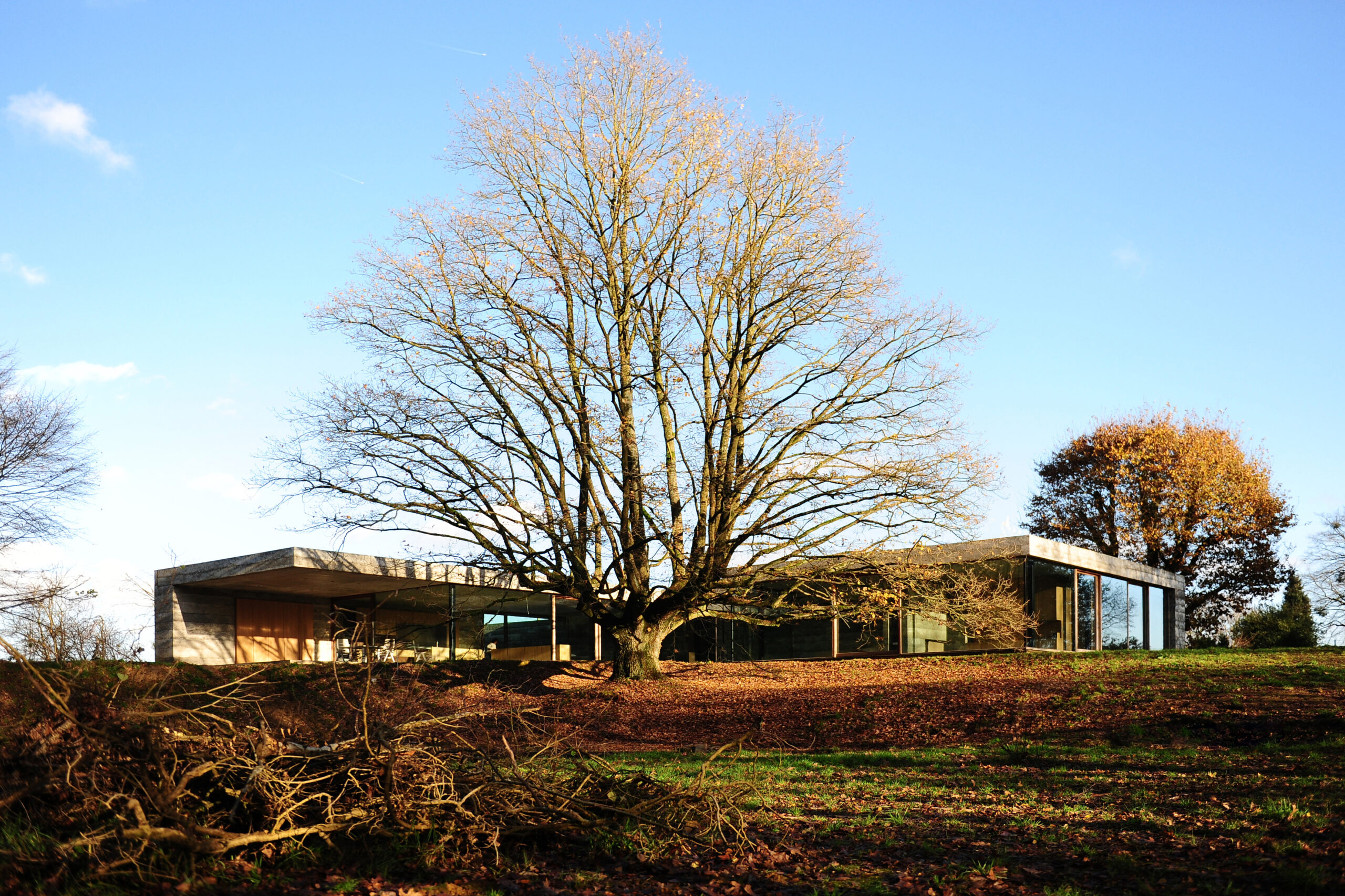 What's next?
Finally, I think I am touching on what I would like my life's journey as an architect to illustrate, namely the very disappearance of architecture in the landscape. On the island of Antiparos, in Greece, the construction of a group of houses will not be seen from the street or the sea. A first project that we are completing in Paros, the neighboring island, illustrates this approach. Finally, we are also opening ERPICUM HOME to help our clients furnish and decorate their property.
What does your direct work environment inspire you?
I live and work in the suburbs of Brussels. The evolution of the city of Brussels, my city, unfortunately does not bring me the enchantment that it deserves, I would like so much to see it cleaner, better maintained; I would like that all the influential actors devote to it the care that it deserves. I would like to be a part of that beautification. In the meantime, I enjoy being in nature or in places where life is more organic, even chaotic. I always enjoy living near trees, and we are spoiled for choice in the Brussels area and surroundings. Nature never disappoints me. The richness of the seasons and the different lights so characteristic of our country elevate me.
Who are your customers and what do they come to Erpicum for?
Our clients are familiar with our work, others, new ones, are looking for a particular expertise such as the reading and the answer we give to the site, the quality of the spaces…, but also a dialogue in order to design the house of their dreams. Architecture is the result of a slow work process where patience is central. These clients are sensitive to our approach that takes time to excel. In fact, I feel that we carry them away.
Increased openness of the home to the outside world, environmental responsibility… how are their demands changing?
Our clients have high expectations in this respect and, depending on their financial means, we strive to meet these requirements as best we can. Internally, our motto is: "Be ahead of the rules, not against them".
In addition to the insulation requirements and the many technical answers, we continually question our technicians, managers and data specialists to ensure that all the techniques implemented can dialogue with each other, which is a real challenge but also a guarantee of efficiency.
How do you see the future of housing?
Living in the future is a recurring theme of reflection. We are working on it. I join my fellow architects in Italy and in France, for a respected territory, no longer invaded, a sparing use of resources, cities with real services offered to citizens, self-sufficient and efficient buildings where nature finds the place it deserves. May the politicians integrate these values into the prescriptions we have to follow.