Charlotte Perriand: How do we want to live? The politics of photomontage – Design Museum Brussels
From April 1, 2022 to August 28, 2022, the Design Museum Brussels will exhibit the photographic work of French architect and designer Charlotte Perriand (1903-1999). In the 1930s, the photographer used photomontage as a tool to observe reality and defend her conception of a new world. This avant-garde collection of strikingly truthful prints, collages, and personal photographs denounces unhealthy urbanism and attests to her commitment and modernity. This creative theorist and social justice activist dedicated her life to improving the living conditions of the majority and to creating an "art of living" in connection with nature; an approach that is truly reflected in her works.
View from my window – Atomium de Bruxelles
In March 2020, Barbara Duriau, a Belgian graphic designer, founded the Facebook group "View from my window. She gathered more than 3 million members and collected testimonials and views from around the world during the containment period. From March 24, 2022 to May 29, 2023, the Atomium in Brussels is dedicating a temporary exhibition to this project, bringing together more than 400 photos of the community. From New York to Moscow to Brussels, members share their views from their windows. Featuring audiovisual installations, timelapses and life stories, the exhibition offers a truly immersive experience. A sensitive dive into the intimacy of those who lived through this difficult period of the pandemic.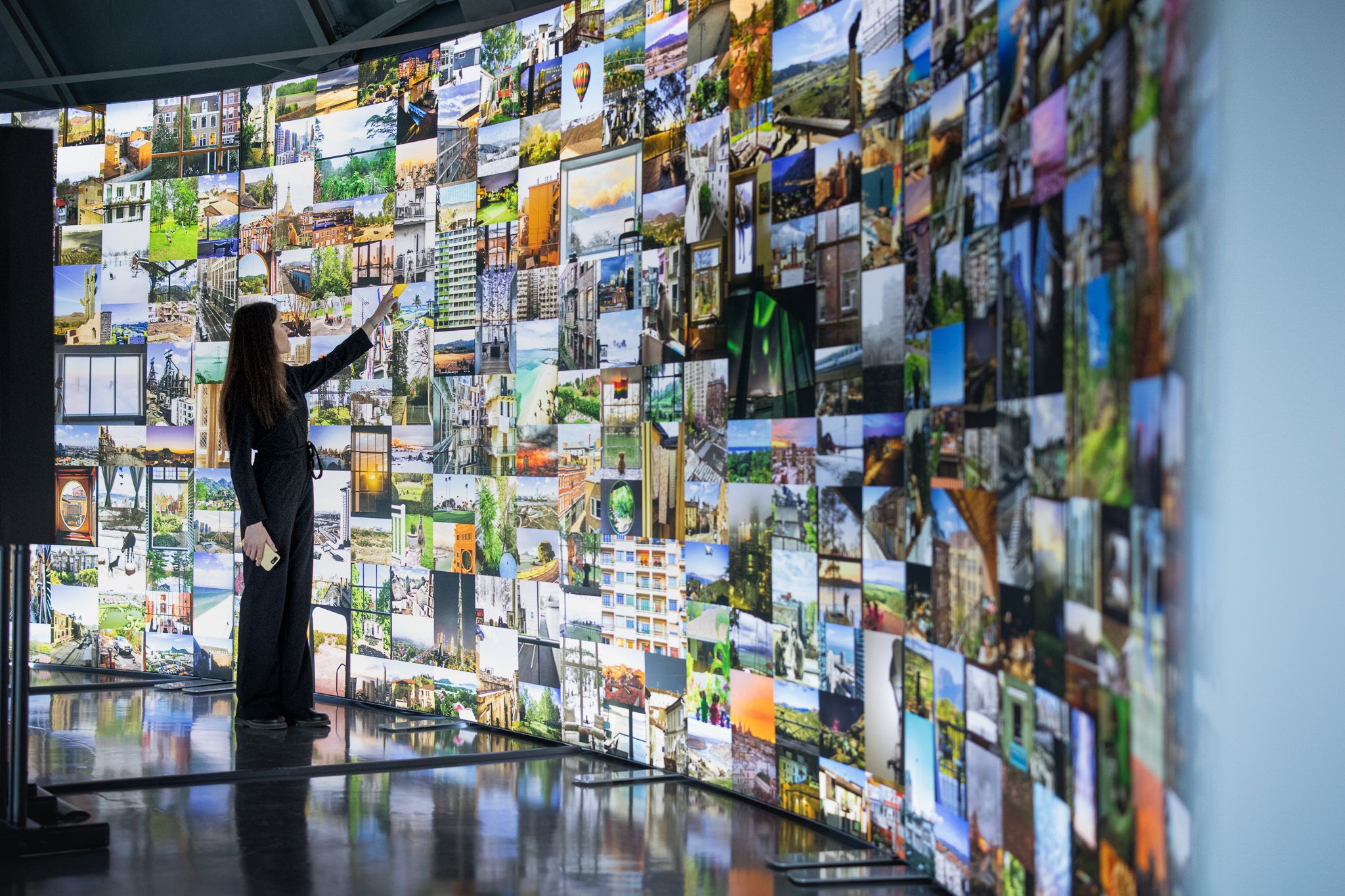 London Tokyo Longdoz – Valdor Hospital
Can we marvel at what surrounds us up close? This is the question that photographer Stefan Wasser asked himself. Ordinarily, street photographs depicting exotic places seem curious to us. For the natives, however, it is an everyday landscape. But if the latter were in our homes, they would be surprised at what surrounds us. So the photographer has chosen to show us the Longdo district in Liege in a different way. In this way, he highlights a vibrant and dynamic neighborhood, which we think we know and yet not really. Valdor Hospital will host this exhibition from 28 April 2022 to 26 August 2022.
Amateur Photography 1880-1920: The Death Row of Posed Portraiture – TinyGallery Brussels
Every day, millions of people around the world take instant photos of their daily lives with their smartphones: a veritable deluge of digital images. However, this mass phenomenon dates back more than a century. At that time, amateur photography was born. Portable cameras were available to millions of novice photographers. The exhibition The Death Row of Posed Portraits, at TinyGallery Brussels from January 1 to June 30, 2022, provides access to intimate images by anonymous authors. The selection of photographs consists of large 2 m2 prints that immerse the visitor in light-hearted moments of everyday life at the end of the 20th century. Although the paintings do not represent the work of a great artist, they are rich in compositional detail and full of dynamism and enthusiasm. Staging and sharing everyday pictures became a real preoccupation for amateur photographers of the time.
Ghabbazar: Photo exhibition and 3D-360° virtual tour – Galerie belge Verhaeren
From November 15, 2020 to November 15, 2023, five friends and artists of the Brussels-based collective GHABBA (Geoffroy, Hilda Strandvik, Alain De Coster, Bernard Juncker, Benoit Delval) will take the public on a unique exhibition. The artists have chosen to present their photographs together: 50 photographs of landscapes that combine their worlds. Moreover, the exhibition is accessible online. Visitors can explore Verhaeren's gallery as if they were there, thanks to a virtual visit in 2D, high definition and 3D-360° tours. An original exhibition, but deep in time, facilitating access to culture.
Exhibition Vivian Maier. The self-portrait and its double – Bozar
Self-taught and a pioneer of street photography, Vivian Maier nevertheless created many self-portraits, many of which will be exhibited at the Fine Arts Palace this summer. The exhibition features Vivian Maier's self-portraits, which are divided into three sections: shadow self-portraits that project her silhouette onto different spaces, reflections in everyday objects and mirror plays. A journey through the streets of these major cities through over 80 self-portraits. Exhibition Vivian Maier, The self-portrait and its double, from 8 June to 21 July 2022 at Bozar, Brussels
Art'n Pepper: House Gallery of Contemporary Art – Sart-Lez-Spa
At Art'n Pepper, Maison Galerie in Sart-Lez-Spa, in the province of Liège, the year is marked by exhibitions and art fairs of all kinds. In a warm and human atmosphere, art lovers stroll through the various rooms and immerse themselves in the works of painters, sculptors, designers and photographers. A garden of 4,500 m² of pure artistic discoveries is also open to visitors. By appointment, Art'n Pepper presents its favorites throughout the week, including four photographers:
– Serge Anton and his collection of portraits taken during his travels in Africa and Asia.
– Eric Ceccarini and his photographs based on the study of the female body in natural light.
– Tom Murphy and his photographs of wildlife and stray animal behavior in Yellowstone National Park.
– Eddy Van Gestel and his portraits highlighting the beauty of African women.
Visus Gallery: Contemporary art gallery – Lasne
At Visus gallery, in Lasne, many French and international artists share the poster on the gallery walls. The gallery strives for the artists' worlds to meet and complement each other. Visus Gallery exhibits works in a minimalist and pure style. The exhibition highlights sculptures, paintings and photographs, including those of Luc Dratwa, Éric Isselée and Antoine Gaussin; to be discovered from Thursday afternoon to Sunday.
Pushing open the door of an art gallery means opening up to a fascinating world, expanding its culture and entering the universe of talented artists. These photo exhibitions of the moment will offer you a range of emotions: a cultural event not to be missed. : a cultural event not to be missed.