Another great edition!
50,000 art lovers and collectors walked the carpet and, in addition to the works on display, admired the always subtle floral compositions, for which everyone likes to be photographed or take a selfie to declare "I was there!". Among the most surprising sales were a collection of 157 playing cards, the Frank van den Bergh Collection to a private collector for 600,000 euros or a twisted chandelier made of bones to a museum for an undisclosed, yet six-figure sum. Tribal art was very successful with pieces selling for 50,000 to 250,000 euros. And the Quattro Stagioni in rosso by Giacomo Balla, the leading futurist artist, was sold by the gallery Antonacci Lapiccirella Fine Art in Rome (www.alfineart.com) to a private collector for 10,000,000 euros. These four glossy portraits of the young Giuliana Canuzzi were painted between 1939 and 1940.
At the heart of the fair, several spaces are punctuated by works by Anish Kapoor that attract attention: contemplative pieces in pink Afghan onyx or alabaster and a work in wood, resin and pigments, with an electrifying blue, a natural material discovered by the artist in India that gives a new chromatic vision to his formal work.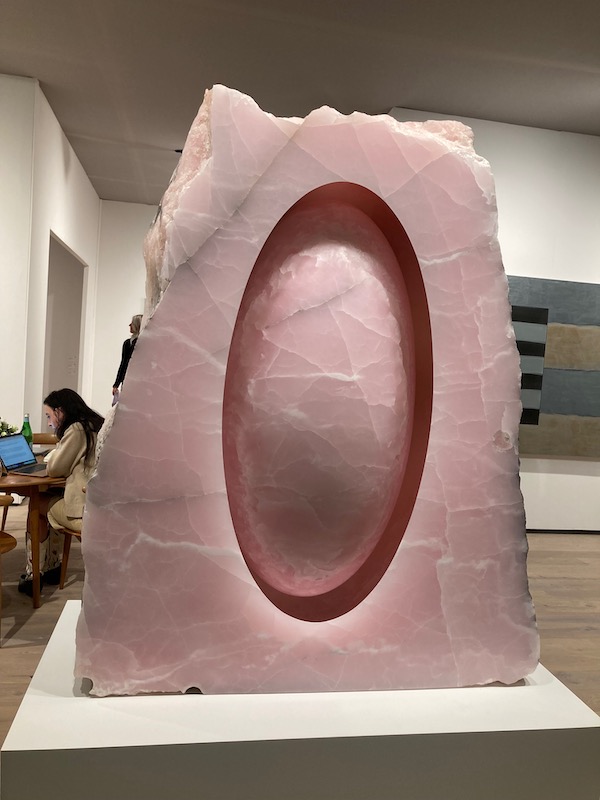 Is design trendy?
The Carpenters Workshop Gallery (www.carpentersworkshopgallery.com) sold a dozen pieces to French, American and Middle Eastern collectors and interior designers. One of the highlights was a clock by Maarten Baas, acquired by a European collector; another work from The Real Time Series by the same artist can be seen in the hall of the Rijksmuseum. Galerie Marcilhac (www.marcilhacgalerie.com) reported a good fair with seven pieces sold, including a chandelier by René Lalique and a personal desk by Paul Dupré-Lafon. The latter piece, in Art Deco style, is made of ebonised pear wood with a central mahogany compartment with three sliding elements and was made around 1928. It was presented with a desk lamp by Poul Henningsen in white opaline, red lacquered metal and gilt brass that mirror the desk's copper handles and bronze support elements.
Design sources
Presented by the Galerie Bel Etage (www.beletage.com), the work of the Vienna workshop (Wiener Werstätte) and the pioneers of design was highlighted with a rare pendulum. Only two examples of this object were made in 1903, the year the historic workshop was founded, one in silver-plated copper and one in patinated copper, for Dr Spitzer and the Kohn company respectively. They were subsequently sold to wealthy personalities close to Josef Hoffman, a Viennese architect and designer of the time, associated with the Wiener Werstätte. One of these two pieces was presented at the Maastricht fair. Joseph Hoffmann's table accessories of perforated stainless steel and his cutlery, made at the beginning of the 20th century, also enchanted the room with their radiant modernity and testified to the experimentation of early designers.
Fashionable galleries
On show at Friedman Benda (www.friedmanbenda.com) were Faye Toogood's current hand-carved oak furniture, worked like archaeological pieces, lost and found again, including a hand-carved, hollowed-out piece reminiscent of the Arts and Crafts movement. The Manufacture de Sèvres showed a recent work by Johan Creten, a tribute to the great scholar and ceramist Bernard Palissy, interpreting an ancient story and destabilising images of movement. The showcase featured the personal desk of Elisabeth Eyre de Lanux, which belonged to Mr Yves Saint-Laurent, as well as a curious table and armchair of ceruse-brushed wood and leather from the 1930s. Design was also central to the concerns of experts in the sector who exchanged views on the heritage of design and its influence on the general public's taste for furniture at a conference. Among the speakers were Lucie Montagne, heritage curator in charge of contemporary collections at the Mobilier National, and Boris Vervoodt of Axel Vervoordt Company (www.axel-vervoordt.com).
An exceptional presentation
Maria Wettergren gallery (www.mariawettergren.com), specialising in art and design from Scandinavia, presented a true masterpiece of organic creation by Danish designer Mathias Bengtsson, who pushes the boundaries of materials like marble by combining the ancestral know-how of craftsmen with artificial intelligence. Born from a computer programme he invented, from his "digital seed", his Membrane table is breathtaking, like all the pieces presented by this gallery…
The Demisch Danant gallery (www.demischdanant.com) presented the work Made in situ in Portugal and Noé Duchaufour-Lawrance's ecodesign with creations in cork. Maria Pergay's work from the 1970s and Gilbert Poillerat's (1960s), including a bed made of stainless steel, could have been presented at the last Collectible show in Brussels, where this material was ubiquitous in the creations of contemporary designers.
And finally, a small note from the 1980s, featuring playful mirrors by Marco Zanini and Wendy Wheatley, the Specchi Veneziani series, presented by the gallery Caterina Tognon (www.caterinatognon.com), from a time not so long ago when designers were still having fun…