Concrete staircases for an ultra-modern contemporary design
Sturdy, contemporary and easy to maintain, concrete stairs have many advantages. In a home, straight, floating and spiral staircases enhance the value of concrete and are to be preferred. These "design stairs" may or may not be accompanied by minimalist railings. In order to reduce the coldness of this material or its raw appearance, it is necessary to play on the reliefs, to add integrated lighting, a maximalist luminary or to incorporate in small touches a warm element, like wood.
Previously reserved for outdoor use, concrete, which has become popular with designers, has now been introduced into our interiors. It gives structure and provides a refined, sophisticated, but above all contemporary, even industrial finish. A material of choice for staircases, adopted by the Italian architect Carlo Scarpa (1906-1978). In 1957, he designed an emblematic sculptural work: the staircase of the Olivetti shop in Venice. An architectural jewel with wide, asymmetrical steps, reminiscent of the carriage returns of old typewriters.
Belgian interior designer Nathalie Deboel has also been seduced by this natural material. In her book "Comforting Homes", she presents several of her projects, including an elegant spiral staircase in light-coloured concrete for a house in Knokke.
The choice of metal for an architectural piece with character
Like concrete, metal stairs—stainless steel, aluminium or steel—have long been confined to outdoor elements. Nowadays, they are displayed in our living rooms to bring a resolutely modern spirit. And this has been the case since the creation in 1966 of Roger Tallon's M400 staircase for CIFOM, the professional union of French foundries, which made it a success. A spiral model with stacking steps made of polished aluminium and coated with black non-slip rubber, an icon of modern design.
The metal staircase is generally endowed with a thin structure offering lightness in the space, such as the one imagined by the Belgian architect Nicolas Schuybroek for the hotelier and collector Moisés Micha in his residence in Mexico City in 2016. This architectural design element in black steel seems to float in the air: "I wanted fluidity, elegant proportions and a limited palette of materials in order to aspire to calm and serenity," said Nicolas Schuybroek when he created it.
Metal offers many design possibilities in terms of shape. Combined with glass or wood, this piece of character will immediately catch the eye.
Modern white staircases with a clean look
To highlight the passageway between the ground and upper floors, nothing beats the elegant simplicity of a staircase in pristine white. White is a bright, luminous and cosy colour that fits perfectly into a classic interior. All designs are possible, but to reinforce the timeless and refined style, the straight staircase is the best choice. For a warmer ambience, the steps can be finished with light or dark wood and integrated lighting.
In 2020, Framework Studio designed a sumptuous spiral staircase for a private residence in Amsterdam. Modern and pure, it rises lightly like a majestic work. Black steps create a striking visual contrast. In 2015, the Belgian architectural firm Jean-Paul Hermant Architectes and the French interior designer Pierre Yovanovitch designed a monumental staircase in white, a union between architecture and art at the Patinoire Royale in Brussels. These architectural elements stand out in the middle of the space in a large white box: a surprising design that inspires visitors to this exhibition space.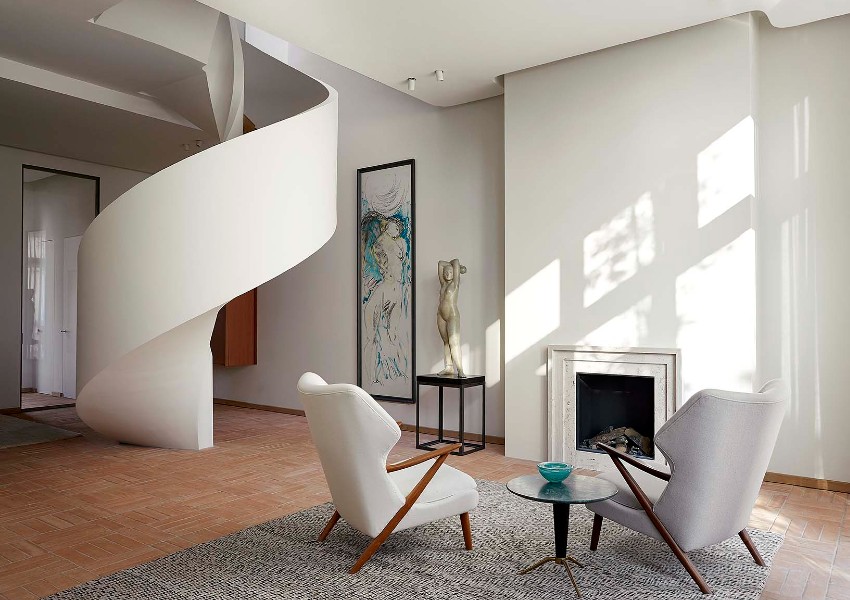 Wood: a noble material for a staircase with unique charm
The wooden staircase is a safe bet and naturally warm, and is a must for any home. Made of ash, oak or other species, it exudes an incomparable charm. Another advantage: it is a noble and durable material. In terms of form and aesthetics, it is preferable to opt for a suspended staircase for its design aspect and to combine wood with other elements such as a glass or metal railing.
Climbing the stairs in style, that's the promise of these design stairs. In Belgium, in order to find the piece of your dreams that combines impeccable design and aesthetic simplicity, or to be inspired by high design staircases, VDV Ferronnerie workshop in Fernelmont, near the city of Namur, has opened its doors. Here you can discover custom-made models combining wood and metal.
A wooden staircase can not only add character to an interior, but is also environmentally friendly: a criterion that is important to the Belgian manufacturer Joa. Each of their creations is timeless and has a modern style. Joa's assets can be discovered in their showroom in Brussels as well as in their workshop in Braine-L'Alleud, where the environmental impact has been thought to be reduced. Indeed, Joa highlights local know-how and only works with local partners. The brand, founded ten years ago by designer Sébastien Boucquey and run hand in hand with wood engineer Olivier Doré, focuses on quality, durability, aesthetics and design. Their staircase models reveal a modern style and can be adapted to all desires: suspended spiral, with or without railing, quarter-turn and with integrated bookcase, straight freestanding…
Finally, the Genico showroom in Ruiselede offers customised solutions for minimalist, high-end stairs. The latter presents its collections: Black, a refined, eye-catching design model; White, minimalist white staircases that create a peaceful atmosphere in every interior; and Skin, a range that highlights all the possibilities offered by this house in terms of wood, concrete, glass and natural stone.