Luxury bedding, a promise of quality sleep
Luxury bedding is a true art of living. Its manufacture is even an art. Made of the finest materials, it also offers refinement and elegance with its careful finishing. A real luxury jewel focused on comfort, well-being and design. It is thus certain to spend nights of exception as in the greatest hotels. These starred establishments solicit top-of-the-range brands to equip their rooms and suites.
If you want to enjoy the luxury of a good night's sleep at home, you have to opt for excellence such as the Swedish family brand Hästens. The brand's luxurious beds can be found in prestigious hotels such as the Arantza Hotela in Navarre, Spain, and the Lotten New York Palace in Manhattan, where a real link has been forged between the latter and Hästens. A suite is even dedicated to the Swedish publisher: the Hästens Ultimate Sleep Suite, a room equipped with the superior Vividus model. The specialist in high-end bedding also supplies the most famous celebrities and has the privilege of equipping the Swedish Crown.
Hästens is renowned for its craftsmanship and high quality. The mattresses are hand-filled with linen, horsehair, cotton or wool, natural materials offering unequalled comfort. For six generations, the brand has been developing its techniques to create unique models that meet the highest standards of excellence. In Belgium, the various collections are presented at four selected addresses: the Hästens sales outlet in Brussels, the Bosmans Slaapcomfort center in Heist-op-den-Berg, 2-Sleep in Heers and De Nachtwacht in Kortrijk.
Other high-end brands are working to improve the quality of our nights, such as the Belgian brands Beka and Revor Bedding. Beka, a patented supplier to the Belgian Court, aims to offer optimal sleeping comfort. To achieve this, 15 experts work together to create a top quality model. Revor Bedding, a family business that has been a reference in Belgium for more than 40 years, offers the customisation of luxury beds. It is also a responsible company, approaching sleeping comfort from the angle of ecology and excellence.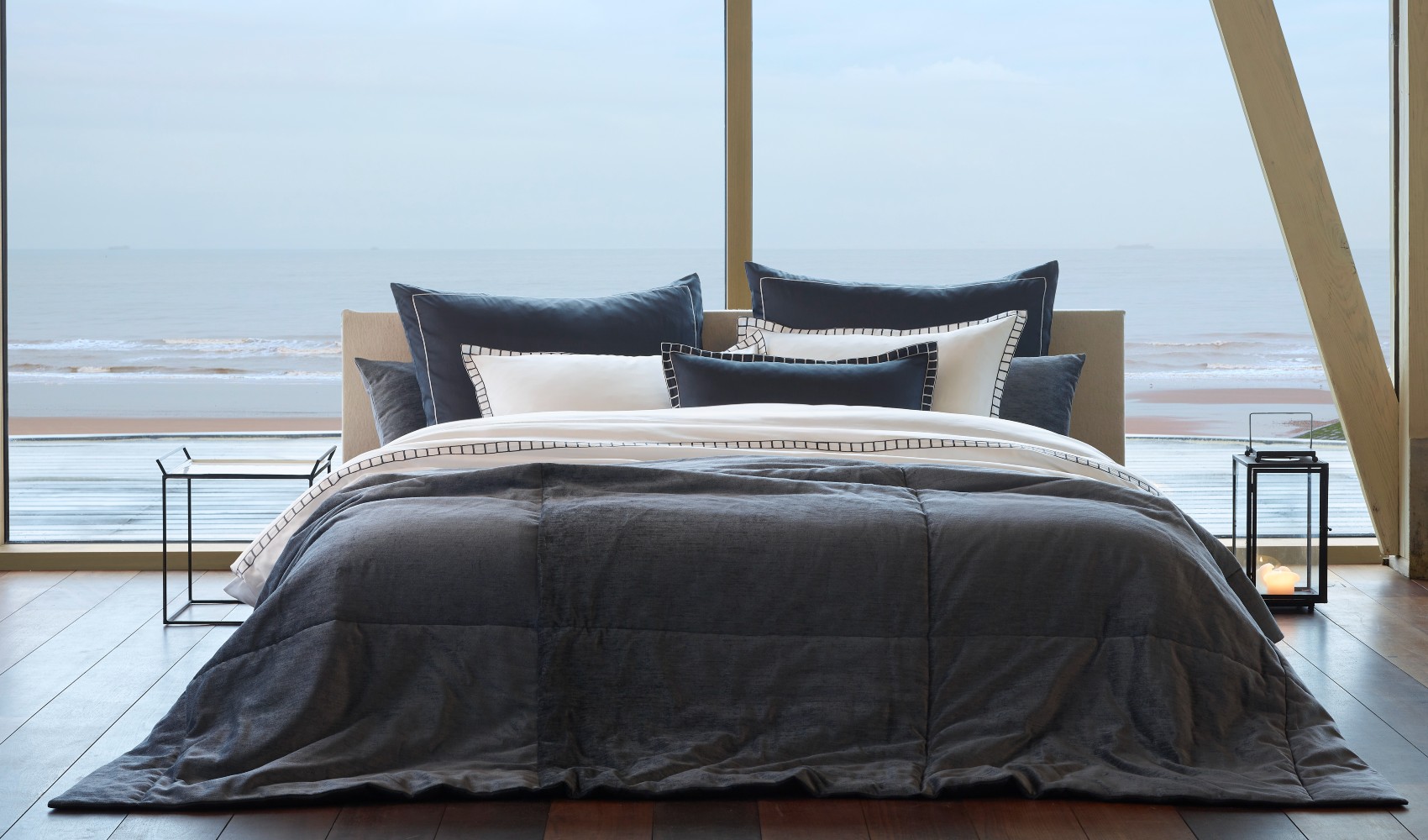 Exceptional bedding: a dream worthy of the greatest luxury hotels
The voluptuous comfort of the beddings of the great luxury design hotels at home: a dream now possible. To enjoy it, you have to recreate the experience offered by these establishments.
First of all, you need to choose the centrepiece of the room, the bed. Classic bed with a slatted base or boxspring? For an immediately luxurious look, the boxspring is the best choice. This bed consists of a wooden box on legs with metal springs. This structure is usually covered with a fabric and a headboard. The mattress and the optional mattress topper are placed on top of the frame. This is the hotel bed par excellence. Higher than a normal model, the boxspring accentuates the comfort and its spring structure ensures an excellent ventilation of the air offering a regulated temperature favourable to the well-being. A true American-Scandinavian trend, this model is ideal for people looking for a bed that is both aesthetic, functional and high quality.
Vispring, a British manufacturer of custom-made beds, was the first to invent the pocket spring. There are, in fact, several types of springs: bi-conical, multi-spiral and pocketed. The latter is without a doubt the best. It offers excellent support and adapts to the different parts of the body while following the movements.
For a feeling of sleeping like on a cloud, it is thus preferable to start on a boxspring bed equipped with pocket springs. And to have the impression of being in a hotel, choose your household linen.
Bright white sheets and pillows galore, the timeless elegance of hotel bedding. Brinkhaus Blue, or Mirabel Slabbinck, the Belgian specialist in high-end bedding and eager to satisfy demands in terms of comfort and design, present high quality and even customizable linen lines. The pieces are designed in noble materials: down and feathers, fibres and natural hair. De Witte Lietaer, a Belgian manufacturer of household linen, is also committed to offering a range of high-quality textiles: pillows, duvets, fitted sheets, mattress protectors and plaids, which can be found in its factory outlet in Lauwe. The brand combines design and quality, two essential elements to recreate the warm and luxurious atmosphere of hotel rooms.
These top-of-the-range beds signed by the most famous publishing houses
The quality of sleep depends on the choice of a good bedding. Today, the major publishing houses pay particular attention to this. In collaboration with designers, they create top-of-the-range models that are extremely comfortable and fit in perfectly with a contemporary bedroom design.
Some of them compete with ingenuity to meet all our requirements in terms of well-being. This is the case with the Italian furniture publisher Lago and its Fluttua range, and Air: floating, vaporous beds that give the impression of levitating. These suspended models, with their contemporary lines, encourage air circulation and provide natural ventilation of the mattress.
The Italian publishing house Poliform offers a unique resting experience: bed ranges with superior comfort and contemporary design: an instantly recognisable identity. The Arca, Jacqueline, Rever and Chloe collections have an upholstered bed frame, a spring mattress and are completely covered in fabric or leather, giving them a luxurious look. Poliform has also opted for multi-functional bed bases. These have a storage compartment, which saves space in the bedroom.
Another specialist, made in Italy, offers a new sleep culture. Flou designs high-end beds to improve well-being and quality of life. In collaboration with the greatest names in international design, such as Rodolfo Dordoni, it presents models that are increasingly aesthetic and functional. Koi, a box bed designed by Carlo Colombo, is upholstered in fabric or leather with simple and elegant lines.
Because most of us have dreamed of living with the bedding of a luxury hotel, Sofitel has launched its range of made-to-measure beds and has granted our wishes. The famous French hotel chain unveils an exceptional bedding, to curl up in every day: Sofitel MyBed. This concept is available in several sets, including the most prestigious Sofitel MyBed Luxe set, a model of extreme softness like a real cocoon.
A beautiful selection of luxury bedding to recreate the experience of high-end hotels in the privacy of your own room.