Advertising

We have chosen to highlight the work, the aura and the talent of 21st-century architects – whether from here or from abroad, young or old, publicised or largely unheard-of – whilst making it crystal clear that contemporary architecture is not in itself an architectural movement. Architectural movements, such as modernism, neoclassicism or futurism, are always associated with a defined period of history. An architectural movement is therefore a particular choice that is intended to be an accurate reflection of society at a particular time. The architects we present you all share a desire to expose a particular idea of the pure, almost sacred beauty of things. No more neo-this or post-that, their art is not tied to any complacent brotherhood; instead, it responds to the greatest subjectivity: the heart.
1/ Bjarke Ingels
Yes is More! This slogan-like enthusiasm is what drives the Bjarke Ingels Group (BIG) architecture studio. This studio outshines the competition, and snaps up the best projects in all four corners of the world.
"VM Houses", a residential property in the shape of a figure of 8 in Copenhagen; the "People's Building" and the "Danish Pavilion" (EXPO 2010) in Shanghai; the "VIA 57 WEST" building in New York; the grand asymmetric arch of Nouvelle-Aquitaine's Creative and Cultural Economy Centre (MÉCA) in Bordeaux, and the residential tower at "1480 Howe Street" in Vancouver. These are just some of the architectural feats achieved by the Bjarke Ingels Group (BIG) studio in Copenhagen.
48-year-old Bjarke Ingels was born in the Danish capital, and studied architecture at the Royal Danish Academy of Fine Arts. Legend has it that he enrolled there to become an animator, but he left passionate about design. He continued his studies at the Escola Tècnica Superior d'Arquitectura in Barcelona, before working for Rem Koolhaas and Josh Ramus (Studio OMA), helping with projects including the Seattle Public Library. In 2001 he founded the Brussels-based PLOT agency with the Belgian architect Julien De Smet (whom he met at OMA). This partnership came to an end in 2006. Bjarke Ingels is currently a partner of JDS Architects, which is based in Brussels and Copenhagen. He is also the founder of BIG, which employs more than 540 people and has offices around the globe, and is said to be one of the hottest, craziest and most successful architecture firms in the world.
Monumental up close, visible from afar
Ideas race through Bjarke Ingels's head at a mile a minute. He is a true "wiz kid". In Manhattan, he pitched his idea for a second large tower for the World Trade Center (2WTC), which would resemble a 410 m-high staircase. Wait and see! In California, he designed Google's new headquarters. In Denmark, he was the mastermind behind a giant waste incinerator with a ski slope on its roof… In 2018, Time magazine even slipped him into its list of the 100 most influential people in the world. For Artemide, he has designed a luminous "object" with the most minimal form possible: a line (La Linea), but with almost infinite installation potential. La Linea is a flexible silicone light tube, which is processed on the site of installation and can be twisted and turned into even the most unusual shapes, as well as lettering in fonts imagined by BIG. Based on LED technology, the technique developed even makes it possible to connect different pieces to create an infinite line. His ambition? To build a home… On Mars!
2/ Nicolas Schuybroek
In the warmth of minimalism, Nicolas Schuybroek develops an approach where emotion and a sense of peace are at the heart of his projects.
For Nicolas, architecture proved to be a revelation. When he discovered the Couvent de la Tourette, a concrete priory designed by Le Corbusier that also manages to express the sheer art of colours, he was also struck by the human dimension. He experienced the same exaltation again when he came across the work of Hans van der Laan, an architect and Benedictine monk hailing the Netherlands. Nicolas found his style, the monastic style. He then decided to transcribe it in his own creations, adapting the very specific treatment of spaces, volumes and light, and enhancing it with a restricted palette of materials, characteristic of this type of construction. During the creative process, his inspirations know no bounds, ranging from Russian Constructivism to Land art and even contemporary dance with its ability to exude a visual power with very little means. He combines the dominant materials of architecture with a limited selection of rich textures (stone, wood, plaster, metal) and patinas that serve to compensate for their limited number. And stone, of course, creates a link between the building envelope, taking the outside inside. Nicolas is always on the lookout for materials with depth, soul, and a special quality to capture light. By extension, he also considers that every design object or piece of furniture is a microarchitecture. Take the pewter kitchen island, designed for Obumex, or the accessories, devised for the brand When Objects Work, functional sculptures in the own right that emphasize the beauty of the materials, underlined by graphic and pure lines.
3/ Odile Decq
In red and black, she cultivates visual shocks and strong positions. Odile Decq makes architecture rhyme with adventure, banishing the banal.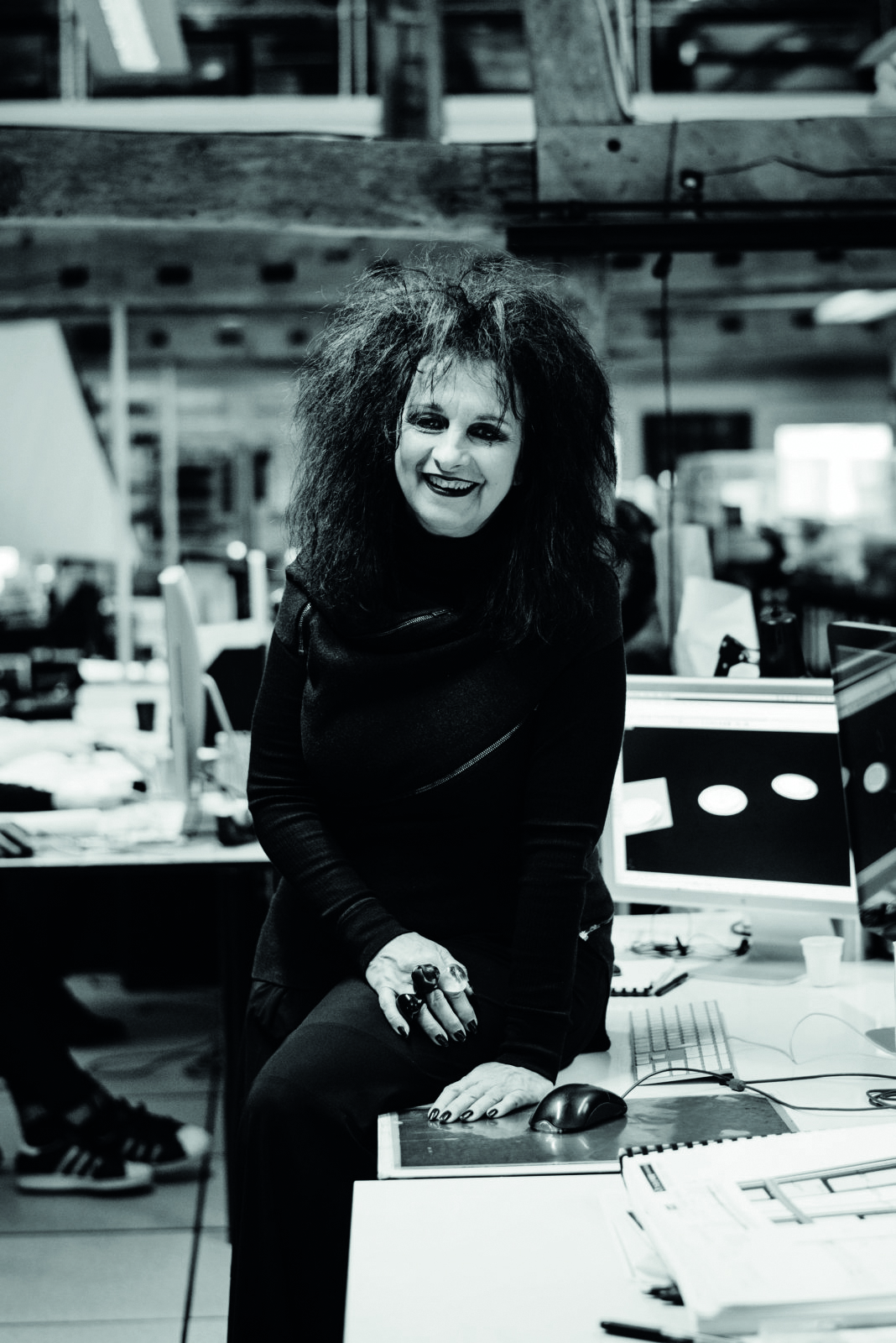 From the Fantôme, the restaurant of the Paris Opera House, which dialogues with the 19th century building, to the Antares Tower in Barcelona, which reflects the spirit of independence of this autonomous region, Odile Decq's work injects dynamism and life into places and spaces. Sailing against the tide of trends, this unique personality deftly handles undulations, curves, broken lines, steel, glass, mirrors and contrasting colours. Fuelled by the punk rock culture of the 1980s, which shaped modern London, like a story within a story, she invites us into a complete universe, one that embraces urbanism, architecture, design and art. A recipient of the Golden Lion for Architecture at the 1996 Venice Architecture Biennale and winner of the Chicago Atheneum International Award in 2022, she innovates at every level of the process, giving free rein to her creativity to push herself beyond her comfort zone. Whether they converse with historical contexts, make headlines, or pave the way for the redevelopment of a neighbourhood, her rebellious works boldly break the rules and leave no one indifferent. Studio Odile Decq is also a small team of 15 people and just the right size to indulge in an haute-couture profession: to do the research, to be present on building sites and to work alongside craftsmen. The instigator and founder of two schools of architecture in France, Odile Decq can be held up as a symbol of a generation of professionals who boast a singularity and a fierce self-expression.  Her work is a simple reminder of the fact that, above all else, the architect is an artist.
4/ OMA
OMA is an international office and practice, which is run by 8 partners operating within the traditional boundaries of architecture and urban planning.
OMA is the founder of AMO, a research and design studio which applies architectural thinking to its own areas of expertise and beyond. OMA has offices in Rotterdam, New York, Hong Kong, Doha and Australia. Its current projects include the renovation of Kaufhaus des Westens (KaDeWe) in Berlin, The Factory in Manchester, the CMG Times Centre in Shenzhen, and the Simone Veil bridge in Bordeaux. Highlights among recently completed projects are the Taipei Performing Arts Centre, the Norra Tornen apartment blocks in Stockholm, the MEETT Toulouse Exhibition and Convention Centre, and a new building for Brighton College. OMA's previous achievements include the Fondazione Prada in Milan, the Garage Museum of Contemporary Art in Moscow, the Casa da Música in Porto and the Seattle Central Library. With 3 rooms connected to a central cube, the Taipei Performing Arts Centre crystallises the evolution of the theatre of the future with evolving spaces promoting new connections between the stage and backstage, the actors and the audience. Meanwhile, the Gwanggyo branch of Galleria – South Korea's first and largest retail franchise – has a textured stone and mosaic façade in homage to the nature of the nearby park, as well as multiple glass facets to showcase its commercial and cultural activities. The renovation of the historic KaDeWe department store in Berlin has made it possible to divide a monolithic mass into several spaces adapted for today's diverse clientele, and to rethink customer circulation. All of that is topped off by a glass roof and an open-air courtyard, offering a breathtaking view of the city (oma.com).
5/ Herzog & de Meuron
Winners of the 2001 Pritzker Prize, the Swiss duo of architects has completed a series of projects, each more spectacular than the last, all over the world.
Herzog & de Meuron is a partnership headed up by two Swiss architects, Jacques Herzog and Pierre de Meuron. Established in Basel back in 1978, today, the firm boasts an international team of six partners, 40 or so associates and 380 staff working on projects in Europe, America and Asia.
For more than forty years they have been conquering the world with the grand architecture spawned by their highly inventive minds.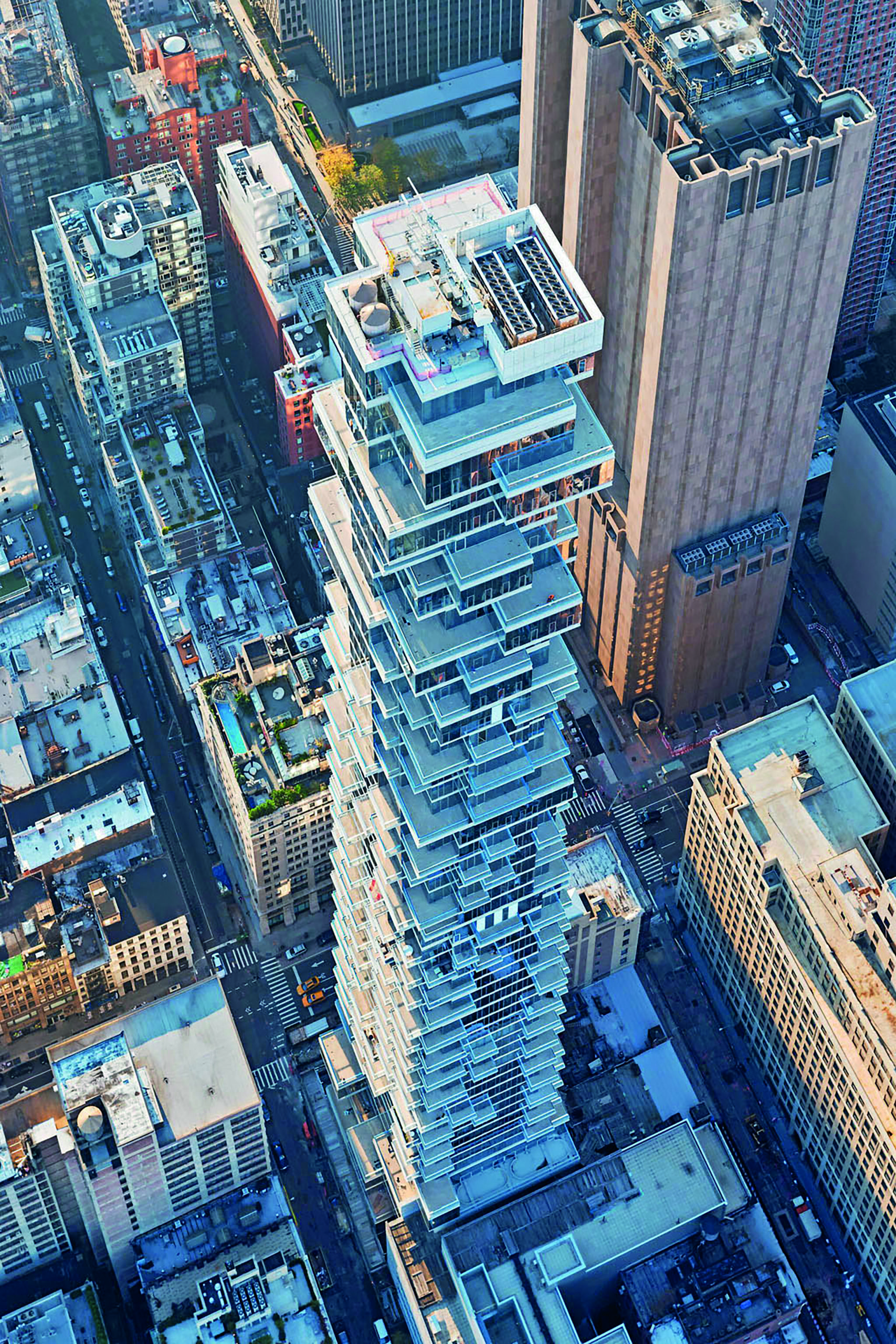 56 Leonard Street in New York is a high-rise residential tower made entirely of glass, with a cascading, cantilevered design that creates a pixelated façade that lends its character to the entire building. This masterpiece by Herzog and de Meuron, which is known colloquially as the Jenga Building, has changed the skyline and the world view of Lower Manhattan. Engineering News-Record magazine called it the "best of the best" residential project for 2017. Nestled in the entrance at the base of the building is a work by British-Indian artist Anish Kapoor, known as "The Bean".
Overlooking the Elbe, perched atop a former brick warehouse, the Hamburg Philharmonic has become the emblem of the city, which is now establishing itself not only as a port city, but also as a destination for music lovers. The architects designed it in a glass envelope created out of curved panels, some carving into the building with an undulating ridge, enclosing two auditoriums, embedded between a hotel and luxury apartments. The impressive building also includes three concert halls featuring a highly diverse musical programme, a comprehensive music education programme and the Plaza, an observation deck that rises 37 metres high to give visitors stunning views over the city.
6/ Glenn Sestig
Glenn Sestig creates local and international architecture and interior design.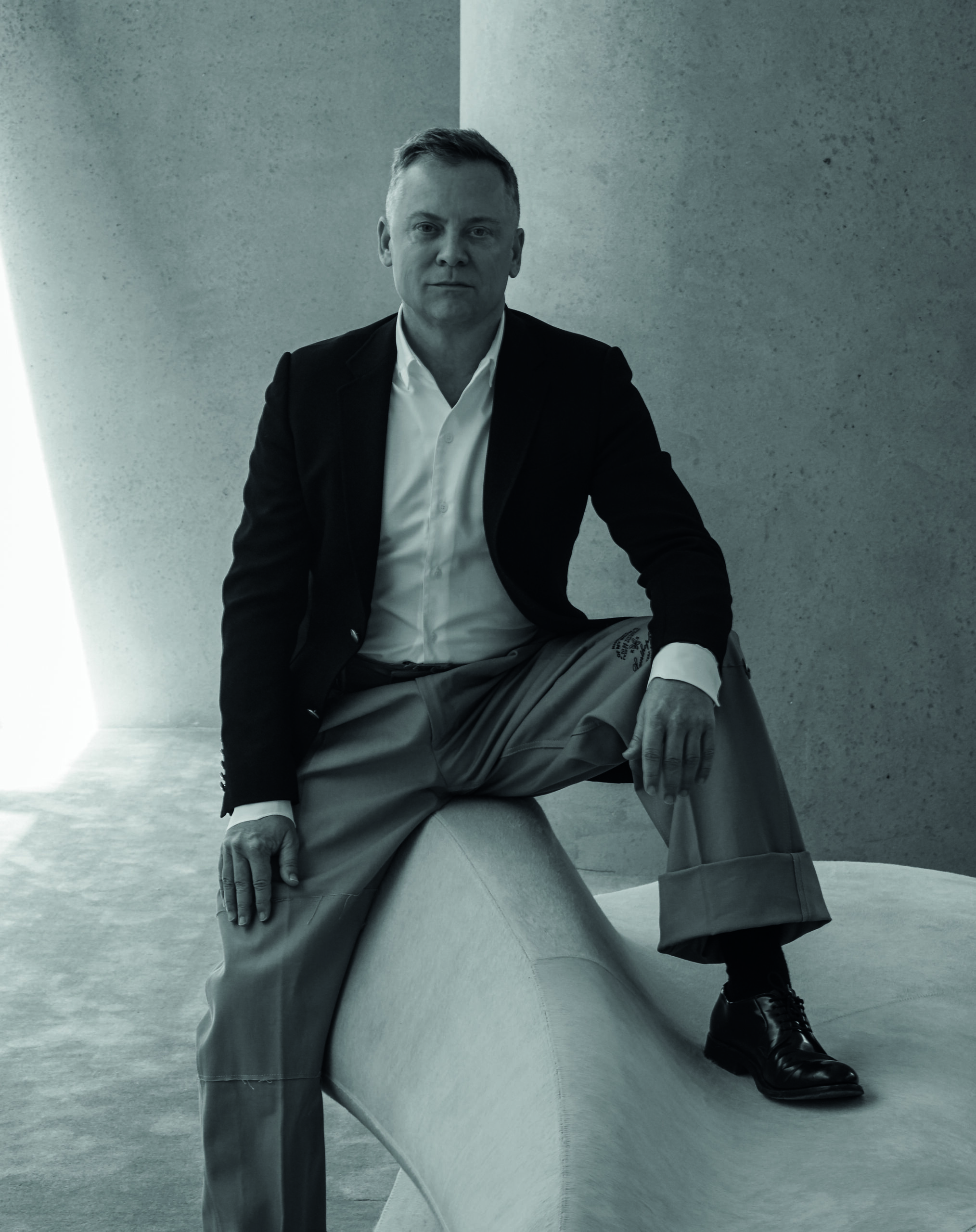 The Belgian architect studied at the Henry Van De Velde Institute in Antwerp and started his own architecture office in 1999. His work is monolithic and intuitive, but also features a strong, refined architectural identity. Initially, his emphasis was on luxury shops and luxury hairdressing salons, but since 2008 he has become increasingly active in residential projects. Glenn Sestig has maintained his success for more than two decades with worldwide achievements, whereby contemporary design coalesces with elegance. In his creations, you clearly see the modernistic tradition of Belgium, with his minimalism and less-is-more elegance. Zen philosophy with Scandinavian aesthetic are prominent as characteristic. His working method: extreme precision, constructions with architectural horizon lines, extraordinary proportions and perspectives. His clients include painter Luc Tuymans and design Raf Simons.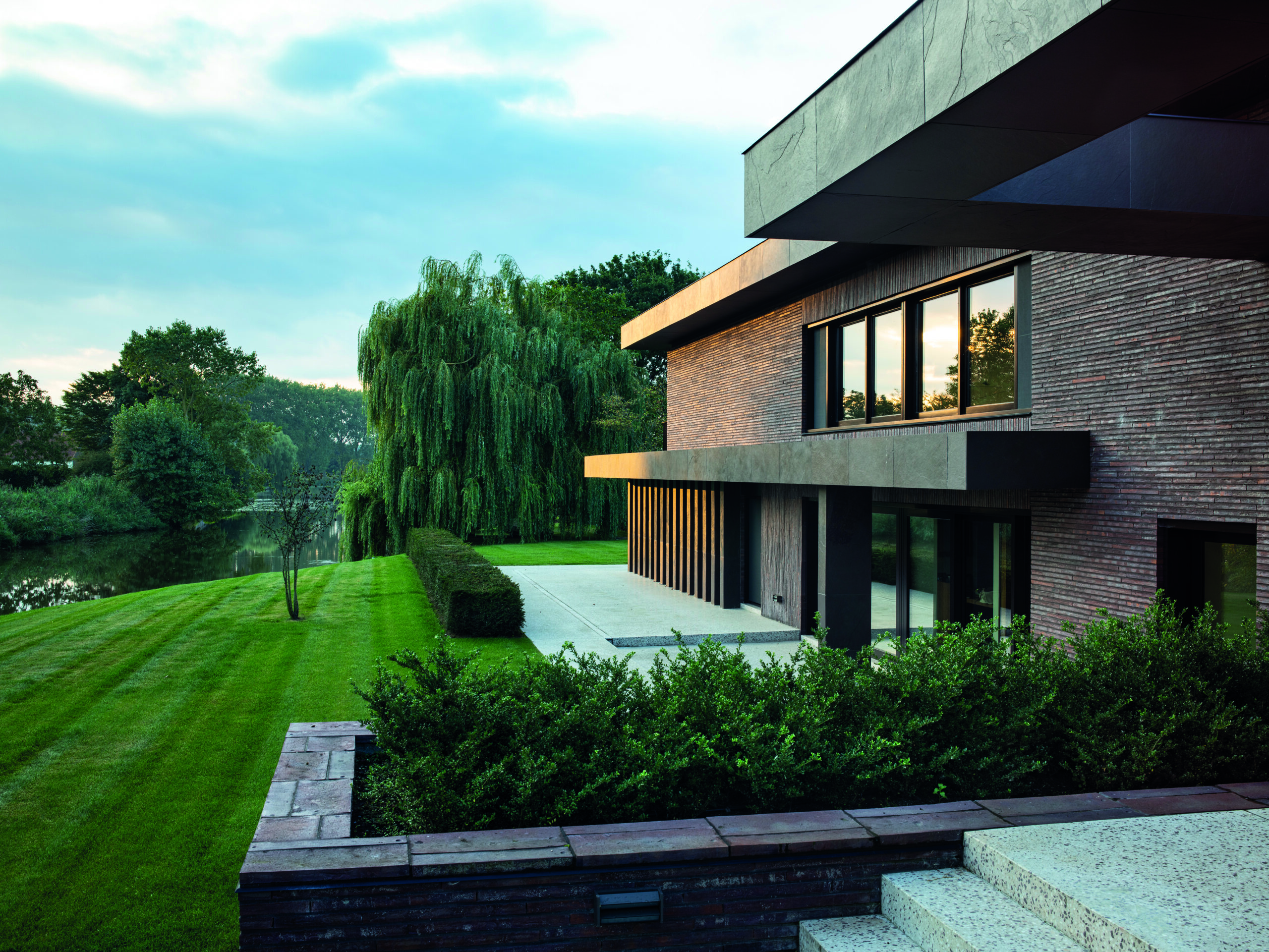 7/ Frank (Owen) Gehry
The King of Deconstructivism is the most important architect of our time.
Guggenheim Bilbao, the Vitra Museum, the Louis Vuitton Foundation, and his own home in Santa Monica… These are just a few reasons why Frank O. Gehry is a starchitect. He lay the foundations of his career in 1962, by establishing a practice in Los Angeles. Since 2001, this has been known as Gehry Partners LLP. His creative genius explodes through post-structuralist buildings, which are constructed using a mixture of wood, metal and glass. His extravagant buildings – many of which are inspired by sailing – feature an array of organic shapes and undulations, short ribbons and broken angles. These are designed using the Digital Project – a 3D modelling program, which was originally created for the aerospace industry. As for the spark that triggers the design process, the master is said to crumple paper when seeking inspiration for his unique works. At 92, Frank O. Gehry is still standing firm. His latest project – the cathedral-like Guggenheim Abu Dhabi – is set to be completed in 2025 (foga.com).