Advertising

In line with trends in interior design and a desire to do something novel and harmonious, Neolith has come up with the dream kitchen Cooking in The Hamptons which is more than just love at first sight or a simple romance. It's spacious with fresh colors on the walls, marine light in the middle of the city and a meeting place to live, experiment and enjoy. It's a special place as the real nerve center of any home.
A New York-style kitchen right in the heart of Madrid
Created by the renowned architect and interior designer, Jean Porsche, the kitchen has differentiated areas and design elements reflecting inspiration and trends that align to bring the sea into the city, luxury all around the burners and nature into our day-to-day lives. In doing so, Porsche took advantage of Neolith's versatility in making sintered stone the perfect companion for an absolute New York jet set summer home kitchen style.
According to Porsche, "We decided to divide the Neolith kitchen at Casa Decor into three atmospheres with two bright balconies overlooking the street and a sort of lookout in the middle". In the first atmosphere, the lookout area, there's a garden with an urban vegetable patch and a flower area where you can find inspiration in the floral fragrance.
Then, there's a second atmosphere, an office area with a Neolith Mar del Plata table to have some intimate family times as well as after-dinner chats with friends. There's also a buffet made with Neolith Pulpis Silk. The crown jewel is front and center: the island area made of Neolith Calacatta Luxe with everything you need to spend some time with a nice wine under the warm light from the three American design lamps. The final visual touch is provided by a third atmosphere, a yellow industrial-like Italian stove with retro burners and front paneling also in Calacatta Luxe.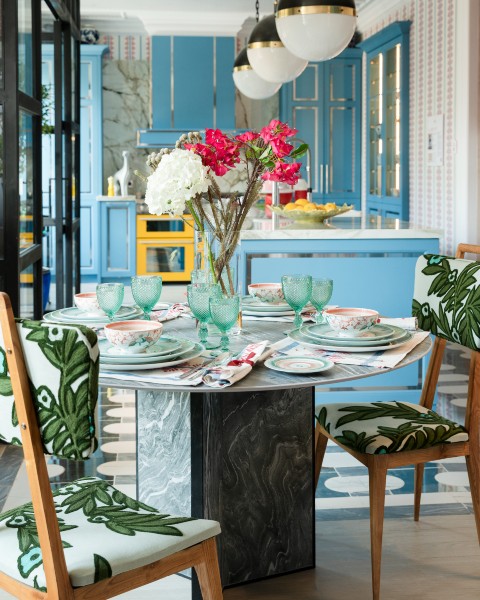 "It's a modern kitchen that takes you back in time to the seventh art to films like 'Something's Gotta Give' or references like the marble rugs once made by Piero Portaluppi for his great Milanese homes like Villa Necchi and Casa Corbellini. The rug in the Neolith home is made using the models Amazonico, Mont Blanc and Mar del Plata for a stone effect and touches of 1950's style Italian light. All of this is accompanied by another two flooring areas made with Winter Dala sintered stone with a wood effect. At the same time, the two most emblematic pieces of furniture decorating the kitchen were created using the Mar del Plata and Pulpis models," explains Jean Porsche.
The Neoclassical details observed in the ceiling molds and cornices and the New York apartment style can be seen in the lovely wallpaper. Color is another strength of this project with a rather varied palette. Wood tones along with the stone range in white greys and greens as well as two textures for more volume in the geometric rug design. The papered walls in reds and blues follow the same kitchen furniture lines. The chromed finishes make it so the space and design play and blend together in an elegant and classical yet novel way. Always with a modern touch yet with many elements used for that romantic past films always bring to mind.
Neolith's Flagship Sustainability
Of the materials included in this space, the main focus is Neolith sintered stone. It's a revolutionary and innovative architectural surface that's also eco-sustainable as it helps reduce CO2 emissions given the minimum thickness and lightness which also reduces the weight of the load for more efficient transportation. Added to this is the all-new 90R formula. It's the seal that identifies all Neolith models that include up to 90% recycled raw materials as opposed to the standard 48%, thus raising the bar to a whole new level. Additionally, the manufacturing process is highly efficient and done in a carbon neutral environment as Neolith was the first company in this sector to reach carbon neutrality by 2019.
About Neolith
Founded in 2009, Neolith is the world's leading sintered stone brand.
It's a revolutionary and innovative architectural surface with superior technical characteristics made of 100% all-natural raw materials.
Designed and manufactured to meet the most demanding needs in the world of architecture and interior design, Neolith stands out due to its quality, versatility, durability and elegance as well as its sustainability.
All around the world, it has become an essential style element for any kitchen, bathroom, facade, floor and even exclusive designer furnishings for indoor and outdoor areas with exquisite designs in combination with high performance.
The company is currently immersed in an expansion plan aimed at key geographic areas such as North America, Europe, China and Australia in order to continue contributing to the creation of unique spaces and extraordinary experiences featuring sustainable functional design in the more than 100 countries where it is present through direct distribution as well as an extensive sales and partner network.