Advertising

Wood: a dream material that inspires the exceptional
Previously neglected because it was considered outdated or too rustic, wood is once again making its way into the world of interior design and is regaining its credibility. Its organic character continues to appeal to architects. Internationally, the most renowned of them, such as the French architectural collective Ciguë or the great Australian-Japanese agency Koichi Takada, do not hesitate to highlight it in true architectural masterpieces. In 2019, the latter designed the interior of the National Museum of Qatar's shop. An extraordinary design expressing the history of the cultural and natural heritage of the Qatari desert landscape: undulating wooden walls and a lighting effect reminiscent of the moonlight of the nearby natural site of Dahl Al Misfir.
Wood has been used in many creations by designers and interior architects, and has thus become a noble, precious and contemporary material. In an interior, the nuances of its species create a climate of serenity, and advocate a spirit of relaxation, a return to our roots. It blends harmoniously with the design of our homes and creates a beautiful balance by subtly opposing the brutality of other materials such as concrete or glass. In this way, it highlights the contours of a room.
Its aesthetics are appealing, but so are its characteristics. Wood is a robust and durable material. Adopting this material means above all opting for a responsible approach and offering your home real added value.
Luxury Belgian interior and wood decoration creations
In Belgium, wood is appreciated by the greatest interior designers and is used in many creations. These designers are now choosing this biosourced material for its organic character. The aim is to create a beautiful object in an eco-responsible way, from local production, to the use of sustainable materials, sometimes recycled, and even traditional know-how.
The authenticity of wood has attracted Belgian interior designers such as Bernard Dubois, who used it as his material of choice for the design of the PNY restaurant in Paris. A wood-panelled project that immerses customers in a vintage-style décor. In Knokke-le-Zoute, facing̀ the North Sea, it was the architect Olivier Dwek who embarked on the design of an exceptional penthouse with natural colours and precious black-stained wenge woodwork: a sober and poetic atmosphere.
Wood is also part of designer Nathalie Deboel's projects. For private interiors, she designs personalised spaces. Comforting places where warmth and conviviality rhyme. And what better than wood for such an atmosphere? That's what Belgian designer Sébastien Caporusso thinks. His motto is to create with an ecological and local spirit. He designs interiors with noble materials such as wood, and from the best Belgian craftsmen. Among his creations: a light wood recliner, cosy and graphic, with a soft white seat, designed for the Silversquare Europe coworking spaces in Brussels.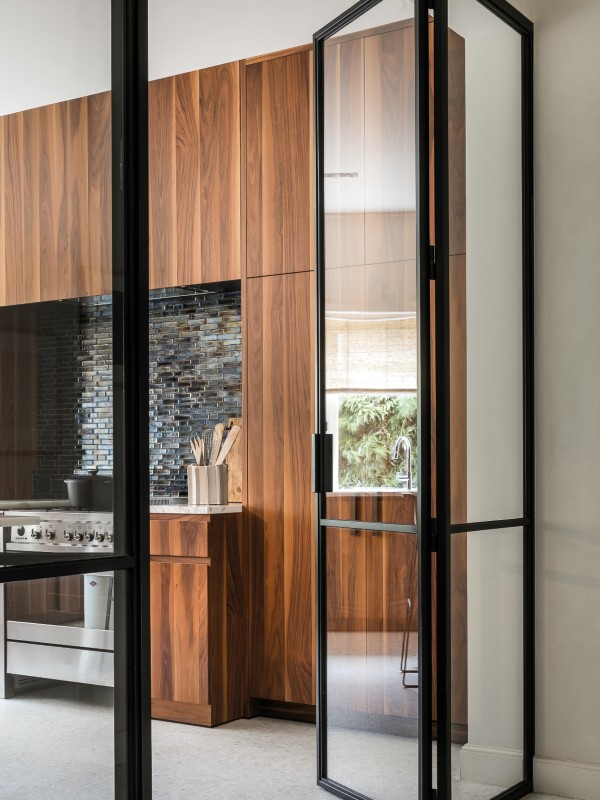 Boost your home with high quality custom-made wooden furniture
With its sober aesthetics and timeless charm, wood lends character and authenticity. Wood can be used in any style and gives a touch of personality to any interior. It is used on floors, walls, sometimes even on the ceiling, as well as on furniture. Wood injects a dose of nature directly into our homes. It has a place in the living room, a warm place par excellence, in the form of solid parquet or panelled walls.
Some furniture and decorative elements in raw wood offer an interesting contrast. A beautiful wooden screen separates this room from the dining room and kitchen. In the kitchen, the fronts of the kitchen are made of solid wood, which is bright and elegant, whether it is a complete renovation or a new one.
In Belgium, if you want to enjoy a living space with a warm and cosy atmosphere that is both elegant, traditional and contemporary, the Baden Baden shop in Brussels is an unmissable address. This furniture, home accessories and made-to-measure furniture shop is committed to creating top-of-the-range furnishings in wood, its favourite material, combining practicality and aesthetics. Baden Baden does not only work in the kitchen, but also in the whole house. He also designs sumptuous wooden bookcases for the office, dressing rooms for the bedroom, and even bathroom furniture, all of unparalleled quality. A reference for a classic style to create that much sought-after blend of modernity and tradition.
Addresses for wood design and renovation in Belgium
If you want to create your own precious wood cocoon, there are a number of companies in and around Belgium that offer tailor-made solutions for all budgets. This is the case of Noir Ebène in Brussels, offering their craft and technical skills to serve your interiors, or Inside in Luxembourg, which has know-how in custom-made carpentry.
Other addresses such as Atmosphère et Bois in Wallonia and Gesibois or even Placabois in the Flemish Region specialise in wood. With these more accessible and traditional brands, it will be necessary to think about the layout project. Use your imagination with the help of an interior architect and bring your own vision to bear on a unique wooden design or renovation.